Product Info
Universal Nutrition Amino 2700 is a high potency, sustained release amino acid supplement packed with L-form and peptide-bonded amino acids.
Amino acids are essential for building strength and increasing lean muscle mass.
The amino acids found in this product are derived from whey protein concentrate (WPC) and whey protein hydrolysate (WPH), which allows for quicker assimilation into muscle tissue.
Each tablet is packed with nearly 2000 mg of amino acids and when taken prior to each meal, it becomes ideal for increasing overall amino intake throughout the day.
Universal Nutrition Amino 2700 is a convenient way to increase amino acid in take especially when you are always on the go.
Related Products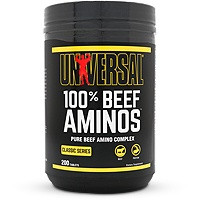 Nutrition Facts
Serving Size: 3 Tablets
Servings per Container: 40


Amount Per Serving
%DV
Calories
24
Protein
6g
12%
Alanine
280mg
**
Arginine
140mg
**
Aspartic Acid
610mg
**
Cystine
140mg
**
Glutamic Acid
700mg
**
Glycine
100mg
**
Glutamine
260mg
**
Histidine
110mg
**
Isoleucine
350mg
**
Leucine
620mg
**
Lysine
520mg
**
Methionine
120mg
**
Phenylalanine
190mg
**
Proline
310mg
**
Serine
270mg
**
Threonine
360mg
**
Tryptophan
100mg
**
Tyrosine
170mg
**
Valine
330mg
**
* Percent Daily Values are based on a 2,000 calorie diet.
**Daily Value (DV) not established
Ingredients
OTHER INGREDIENTS: Extra-Strength Amino Blend [whey protein concentrate, whey protein hydrolysate], dicalcium phosphate, stearic acid, lecithin, magnesium stearate, and pharmaceutical glaze.
ALLERGEN INFORMATION
Contains: Milk, Soy.
Made in a GMP facility on equipment that processes milk, soy, egg, peanuts, tree nuts, fish, shellfish, and wheat.
Recommended products to use with this item
Directions
Take 3 tablets on an empty stomach, three times daily before meals and after training.
Consume (10-15) tablets per day.
Notice
Not for use by those under the age of 18. Consult a physician before using this product.