Product Info
Vitatech Digestive Enzymes may assist with the breakdown of proteins, carbs and fats.
To maximise the nutritional benefits from food it's imperative that athletes and individuals focused on wellbeing maintain an optimal digestive system. Various factors such as poor lifestyle choices may lead to a sub-optimal digestion of food.
Vitatech Digestive Enzymes contains the enzymes papain and bromelain.
Papain is a a proteolytic enzyme that is extracted from the raw fruit of the papaya plant. Proteolytic enzymes help break proteins down into smaller protein fragments called peptides and amino acids.
Bromelain is an enzyme found in pineapples and is a popular protease used for meat tenderizing.
Related Products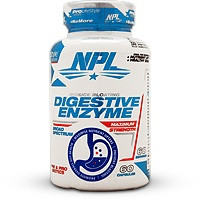 60

servings:

R145.00
R115.00
Nutrition Facts
Serving Size: 1 Tablet
Servings per Container: 30

Amount Per Serving
Papain (mg)
200
Bromelain (mg)
200
South African Nutrient reference values for individuals for individuals 4 years and older.
Ingredients
Microcrystalline cellulose, di-calcium phosphate & magnesium stearate.
Directions
Take 1 tablet with water after a meal.
Notice
This unregistered medicine has not been evaluated by the SAHPRA for its quality, safety or intended use. This medicine is not intended to diagnose, treat, cure or prevent any disease. Consult your doctor prior to using this product especially if you have any suspected or known medical condition. Do not exceed recommended daily intake Dietary supplements should not replace a proper diet.