Product Info
Whereas proteins help with muscle rebuilding, carbs refuel and replenish. Of the various types available, Waxy Maize Starch and Trehalose are two of the best. Waxy maize starches are long-chain, highly-branched, exceptionally-dense complex carbohydrates that are rapidly absorbed. Trehalose is a much smaller, slower-digesting molecule comprised of two unusually linked glucose sugars. Together, these carbohydrates provide immediate and intermediate energy, top-off glycogen stores, and aid with nutrient absorption.
That's why they're the foundation of our Optimum Nutrition GLYCOMAIZE formula. Unlike other high-carbohydrate formulas that you may have used in the past, GLYCOMAIZE is designed to be used often and in greater amounts. Added Carbogen enzymes help ensure fast, easy digestion without bloating or cramping. So, when you're ready to power-up your pre-, during- & post-workout drinks and shakes to meet the intensity of your sports, you're ready for GLYCOMAIZE.
Nutrition Facts
Serving Size: 1 Scoop (40g)
Servings Per Container: 50

Amount Per Serving

Calories

140

Calories from Fat

0

Total Carbohydrate

35g

Dietary Fiber
0g
Sugars

3g

Not a significant source of total fat, saturated fat, trans fat, cholesterol, sodium, protein, vitamin A, vitamin C, calcium or iron.
Ingredients
Waxy Maize Starch, Trehalose, Carbogen.
Recommended products to use with this item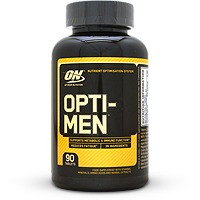 Directions
• To prepare: Simply add 1 scoop of GlycoMaize to a blender, shaker cup or glass filled with 200ml of water or your favourite beverage. Blend, shake or stir for about 15-30 seconds or until powder is dissolved.
• Shake-up your protein shake: Enhance your pre- and post-workout protein, weight gainer, or meal replacement shakes with one or more scoops of GlycoMaize.
• Stack your carbs: Make GlycoMaize an even more powerful post-workout recovery product by adding creatine, arginine, glutamine, BCAAs, and other strength and recovery supplements.
Notice
Do not use as a sole source of nutrition. Keep out of reach of children. Store in a cool, dry place.
Customer Reviews
Quality carb source

Review by fit_guy

(22 November 2014)

Training a lot every week i need a quality carb source to replenish glycogen and prevent muscle loss. The waxy maize is a perfect source (no sugar). Another great product from ON.

P.S. I use before and after my training.

value for money

Review by Larry

(8 April 2014)

really good value for money when looking to add decent carbs to your post workout cocktail. the waxy maize powder ends up everywhere though

Amazing!!

Review by Sky

(9 March 2014)

I used to feel drained after morning workouts. Now after this product I have more energy to take on the day!

Absolutely stunning

Review by Edwin

(15 May 2012)

I recently switched to this product due to similar pricing as my local brand.
I am super impressed, but that's what I should've expected from ON.
Stiffness after gym and jits are no longer as extreme.
I mix it with my bcaa and creatine powder after and before my workouts.

Decent results

Review by Trevor

(26 March 2012)

mix this with some whey after training, seeing some good results so far :)

Very useful

Review by Dehsen

(5 March 2012)

I use this supplement post workout or when my meals are lacking the right amount of carbs
Product is unflavoured so it doesn't kill the taste of you protein shakes
mixes easily with anything


Great product

Review by Christopher (another one)

(24 June 2011)

Was given a tub of this to use in place of maltodextrin used in post-workout drinks before. Never going back. Find this to be easy to mix with protein & creatine. Best of all I did not feel bloated after using it like I did previously.

Agree with Richard

Review by Christopher

(2 February 2011)

It gives a great quick carb to add to your shakes, doesn't result in bloating or cramping. Only problem is it's a bit messy... especially when you try and dig for the scooper!

good post workout

Review by Larry

(17 December 2010)

good source of those much needed post workout carbs if you're not into the maltodextrin/dextrose alternatives. Lasts pretty long when using 1 scoop post workout too. Good value for money from a solid brand like ON.

excellent value for money

Review by Richard

(11 October 2010)

versatile and can be mixed with almost anything
create your own intra and post workout drinks with this and save some cash
only prob is that it's quite messy
great for people looking to gain some decent weight