Product Info
Fully Dosed Amino Recovery is a convenient Ready-To-Drink BCAA and EAA recovery formula.
The amino acids BCAA and EAA are essential to an athlete's fitness goals. They aid in recovery from workouts and provide the body necessary amino acids to repair and build lean muscle.
Fully Dosed Amino Recovery comes in a single serving 390ml bottle to fuel your fitness performance.
Related Products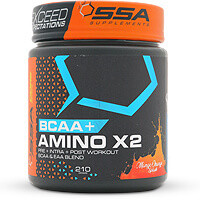 Nutrition Facts
Serving Size: 390 ml (1 Bottle)
Servings per Container: 1

Per 100 ml
Amount Per Serving
NRV
Protein
0 g
0 g
0%
Glycaemic Carbohydrates
0 g
0 g
†
of Which total sugar
0 g
0 g
†
Total Fat
0 g
0 g
†
of Which Saturated Fat
0 g
0 g
†
Dietary Fibre
0 g
0 g
†
Sodium
2,4 mg
9,5 mg
†
Essential & Branched Chain Amino Acid Complex
1 474 mg
5 750 mg
†
Taurine
256.5 mg
1 000 mg
†
*NRV Per Serving-Nutrient Reference Values for individuals older than 4 years.
†-NRV not established.# Dietaty fibre obtained using AOAC 985.29
Ingredients
Essential & Branched Chain Amino Acid Blend (L-Leucine, L-Valine, L-Isoleucine, L-Lysine, L-Methionine, L-Threonine, L-Phenylalanine*), Citric Acid, Malic Acid, Taurine, Flavouring, Potassium Sorbate, Sucralose (non-nutritive sweetener) Sodium Benzoate, Colouring (Beta Carotene), Contains Phenylalanine
ALLERGEN INFORMATION
None
This product is made in a facility that uses tree nuts, peanuts, soya, wheat (gluten), eggs, and milk.
Directions
As a dietary supplement, drink one serving (390ml) of Fully Dosed Amino Recovery during or immediately after intense training sessions if used during exercise start sipping on just prior to training and continue sipping on throughout the duration of your session.
Alternatively use as directed by your nutrition advisor.
BEST SERVED CHILLED. KEEP SEALED IN A COOL DRY PLACE.
ONCE OPENED KEEP REFRIGERATED AND CONSUME WITHIN 48 HRS
Notice
Seek advice from a healthcare practitioner before use if you have any pre-existing medical condition.