Product Info
3D Nutrition Monstrous Mass is a high protein and calorie shake for gaining mass and weight.
Mega Calories
The main reason hard gainers struggle to increase size and weight is that they are not consuming enough calories. If you burn more calories than you eat, you will not gain muscle or body weight.
Athletes looking at increasing weight need to eat a lot more food and frequently to supply their body's with enough calories to start making gains.
A general recommendation is that hard gainers start to consume about 3500 calories per day, increasing by 500 / day each month if they are not starting to put on weight.
To supplement their large food intake they may use a Mass Gainer to help them meet their necessary calorie and protein requirements.
Each serving of 3D Nutrition Monstrous Mass has a massive 1176 calories and 48 grams of protein for adding on the muscle.
Strength Gains
Formulated with creatine monohydrate to give you a workout performance boost by increasing strength and power output.
Creatine is the most researched sports supplement ingredient. Having been studied for effectiveness and safety.
Added Vitamins and Digestive Enzymes
To enhance the nutritional profile of 3D Nutrition Monstrous Mass a spectrum of vitamins has been added.
For improved digestibility and absorption digestive enzymes have been added to maximise the nutritional uptake of Monstrous Mass.
This is a complete mass gaining shake for hard gainers who struggle to increase weight and size.
Related Products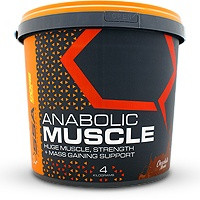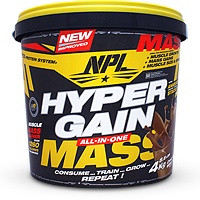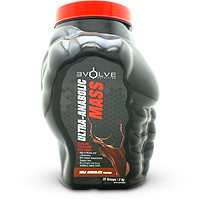 Nutrition Facts
Serving Size: Serving Size : 4 Heaped Scoops (320 grams)
Servings per Container: 13

Amount Per Serving
%NRV*
Energy
4 921 kJ
†
Protein
48g
86%
Glycaemic Carbohydrates
245g
†
of Which Total Sugar
57g
†
Total Fat
3g
†
of Which Saturated Fat
1,5g
†
Total Sodium
1 240mg
†
Total Fibre
2 100mg
†
MUSCLE BUILDING MATRIX
Creatine Monohydrate
2 500mg
†
Glycine
2 000mg
†
Taurine
1 000mg
†
TESTOSTERONE AMPLIFYING MATRIX
Magnesium (as Magnesium Oxide)
195mg
49%
Zinc (as Zinc Gluconate)
15mg
100%
Vitamin Combo
Vitamin C
250mg
250%
Vitamin B1
5,5mg
458%
Nicotinamide
20mg
125%
Pantothenic Acid
7mg
140%
Vitamin B2
5mg
357%
*NRV Per Serving-Nutrient Reference Values for individuals older than 4 years.
†- NRV not established.
# Dietary fibre obtained using AOAC 985.29
Ingredients
Carbohydrate Blend (Maltodextrin, Waxy Maize Starch. Dextrose Fructose), Protein Blend (Milk Protein, Soy Isolate, Whey Concentrate, Micellar Casein). Muscle Building Matrix (Creatine Monohydrate, Glycine, Taurine), Flavouring, Vitamin Combo (Vitamin C, Vitamin B1, Nicotinamide, Pantothenic Acid, Vitamin B2), MCT Oil, Inuline, Salt, Thickeners, Lecithin, Non-Nutritive Sweeteners (Sucralose & Acesulfame k) and Digestive Enzymes, Colourant (E122).
ALLERGEN INFORMATION
Contains Cow's Milk.
This product is produced in a facility that processes Eggs, Dairy and Soy.
Directions
• Take 1 serving (4 heaped scoops) with 400-500ml of cold water or milk, depending on preference, after your workout.
• On Non-Workout Days: Take 1 serving between meals.
Notice
Seek advice form a health care professional before use if you have any pre-existing medical condition. Do not use if you are pregnant or nursing, or if you are being treated for heart disease or high blood pressure. Should not be used in conjunction with any prescription medication, including MAO inhibitors, stimulants or anti-depressants. Discontinue use and consult your doctor if any adverse reactions occur. KEEP OUT OF REACH OF CHILDREN.
Customer Reviews
Not good at all.

Review by P.K

(24 October 2021)

I bought this product a few weeks ago, and I am about to purchase a different mass gainer without finishing this one. Usually, I end up turning the bucket upside down to get the last granule of protein, but I just can't with this.

From the moment I opened the bucket, I felt buyers remorse as the powder was just in the bucket, raw. Not in that sealed plastic or anything else. The texture is more akin to dust than powder, and as I pried the lid open, particulate flew into my face. The slightest agitation causes dust to fly up as if one has just blown on an old tome from an ancient crypt.

I bought the vanilla flavour because vanilla is hard to mess up, but that is exactly what happened. For the first time in my life, I have found something to be too sweet. I practically inhale sugar with no issues, and my sweet tooth is unparalleled, yet I can't handle this. It's cloyingly sweet to the point where my throat STINGS when I drink this. Whether made with milk or water, it makes no difference. It physically hurts to drink this, and I haven't used it long enough to see if there's a tangible difference in my gains or not.

This is not a good product, and while I never leave negative reviews for ANYTHING, I feel like I have to this time. The price of the product does not correspond with the product itself, and I unfortunately cannot recommend this product LESS.

Great tasting, noticeable energy gain

Review by Drey

(6 November 2020)

Again a great tasting shake from 3D, Chocolate, I am in the early days of using the product , but I have already noticed a pick up in energy while using the product.

Great value for money

Review by Shakes

(26 August 2020)

Good mass gainer with great taste

It taste great and its good for putting on Mass

Review by #GYMISLIFE

(4 July 2020)

The first bucket did do me great giving me an extra boost in weight i was the first week at 53kg before using it I'm now on 58kg and did definitely bought me a second bucket can't wait to see the results then.....