Product Info
NPL Elite Gainer is a mega calorie shake for fast weight gain and size.
Get Your Weight Up
To increase your weight and size you need to get more calories from food. Eat lots of food and more often.
If you don't have access to quality food a mass gainer can give you extra calories and nutrients in a convenient tasty shake to help you increase your weight.
Mega Mass Calories
A single serving of this product will give you 1110 calories. To get the same amount of calories you would have to eat 3 beef hamburgers in one go!
To bump the calories up to 3300 you can add 2 large bananas, 2 cups of oats, 5 tablespoons of peanut butter, 2 cups of low fat ice cream and blend with 950 ml low fat milk.
Build Muscle
This mass gainer will not only put on more weight but also support your muscle building efforts by giving you 50 grams of high-quality protein in every serving. Protein feeds muscle growth.
Cost Effective Meal
Writing this review a single serving of this mass gainer will cost R36. To get the same number of calories from 3 hamburgers will cost approximately R90.
Better Digestibility
To make it easier getting all the nutrition down a digestive enzyme (Tolerase® L) has been added which minimizes the discomforts associated with lactose intolerance like abdominal pain and diarrhea.
NPL Elite Gainer is a serious mass shake for athletes and hard gainers who need mega quality nutrition to grow.
Related Products
Nutrition Facts
Serving Size: 6 Rounded Scoops (320g)
Serving Per Container: Approximately 12


Amount Per Serving
% NRV
Energy
4661.0 kJ
-
Protein
50.2 g
90%
Glycaemic Carbohydrate
236.9 g
-
Of which: Total sugar
41.9 g
-
Total Fat
2.4 g
-
Of which: Saturated Fat
0.9 g
-
Dietary Fibre
4.7 g
-
Total Sodium
1075.0 mg
-
Potassium
376.0 mg
-
Calcium
274.0 mg
21%
Magnesium
32.0 mg
8%
Phosphorous
460.0 mg
37%
AMINO STACK
L-Glutamine
5000.0 mg
-
Taurine
2500.0 mg
-
VITAMIN MIX
Vitamin C
15.0 mg
15%
Nicotinic Acid / Amide / Niacin
2.4 mg
15%
Vitamin E
2.3 mg TE
15%
Pantothenic Acid
0.8 mg
15%
Vitamin B6 (Pyridoxine)
0.3 mg
15%
Vitamin B2 (Riboflavin)
0.2 mg
15%
Vitamin B1 (Thiamine)
0.2 mg
15%
Vitamin A
135.0 mcg
15%
Folic Acid
60.0 mcg
15%
Biotin
4.5 mcg
15%
Vitamin D
2.3 mcg
15%
Vitamin B12
0.4 mcg
15%
*% NRV - Nutrient Reference Values for individuals older than 4 years.
Ingredients
CARB BLEND: Lower GI Maltodextrin, Maltodextrin, Fructose. HEPTA PROTEIN SYSTEM: Whey Concentrate, Soy Protein Isolate, Milk Protein, Whey Hydrolysate, Whey Protein Isolate, Calcium, Caseinate, Egg Albumen. AMINO STACK: L-Glutamine, Taurine. Cocoa Powder (in chocolate only), Flavouring, Inulin, Stabilizers, Salt, MCT Oil, Non-Nutritive Sweetener Blend (Sucralose, Acesulfame-K), Colourant (in Strawberry Only: Ponceau), VITAMIN MIX (Vitamin C, Nicotinic Acid/-Amide/Niacin, Vitamin E, Pantothenic Acid, Vitamin B6 (Pyridoxine), Vitamin B2 (Riboflavin), Vitamin B1 (Thiamine), Vitamin A, Folic Acid, Biotin, Vitamin D, Vitamin B12), Tolerase® L.
ALLERGEN INFORMATION
Milk derivatives, Soy, Egg.
This product is manufactured in a facility that uses materials containing milk, soy, wheat, barley, oats, gluten, eggs, fish, peanuts, shellfish and tree nuts.
Recommended products to use with this item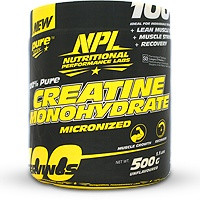 30

servings:

R279.00
R219.00
Directions
• As a nutritional supplement, add 6 rounded scoops (320g) to 500ml of cold water or full cream milk.
• Supplement with or between meals.
• Use as a recovery post-training drink.
• Consume 2-4 times daily.
• Serving size and mixing ratios may be adjusted to meet individual requirements and taste preferences.
Notice
Consult your doctor prior to use. Not intended for use by persons under the age of 18. Do not use if you are pregnant or nursing unless prescribed by a sports physician / dietician. Maintain an adequate state of hydration while using this product.
Customer Reviews
The best in its class...

Review by Mr Ashe

(24 July 2019)

I used a few other products,, but NPL Elite gainer and even the NPL Hyper Gain is thus far the fastest working supplement and im a skinny guy.. I stick to the chocolate flavour.... Awesome in taste and smell divine... Good job NPL!! Satisfied to the max...

Really does what is says

Review by KG

(12 May 2019)

I have been using different mass gainers as a beginner from last year. But with this one!
I have seen impressive results.
Since it has no creatine added, you can buy along npl creaForce.
With the two you will notice your shirts shrinking

meh

Review by sasquatch

(18 February 2019)

was excite about this product
chocolate was pretty good

two tubs later i ended up losing 3KG

gone back to nutritech Hulk Gainer


Great Supplement

Review by Sky

(26 September 2018)

Tastes good, hand mixing is hard, only works well with a blender

Npl elite gainer

Review by Kocee

(9 August 2018)

Better mixed with water / seen results after a week also use Npl amino gains and u wont go wrong with npl

Great product

Review by Thinkwell

(30 July 2018)

Good product have used it only for two months and results speak for themselves

It really works!

Review by KB

(18 June 2018)

...been using Hyperbolic Mass Gainer USN, and I was not gaining anymore, tried lifting as heavy as I could with the right nutrition, but when I tried NPL Elite Gainer, it blew me away, I was not really checking myself in the mirror, I started noticing strength in the gym after 3 weeks and when I paid attention in the mirror, I could not believe what I was seeing, I really gained, the price is a bit high though, but definitely sticking to this product. There is a trick when you mix it in the bottle, it will not mix easily if you add two scoops to 300ml of water/ milk, so add 300ml first and add one scoop then shake for 30 seconds, then add the remaining scoop and shake for a minute or under. no lumps

I love NPL

Review by 10staxxx

(7 May 2018)

I've tried almost everything from USN,moved to NPL hyper gain saw some changes but damn Elite gainer blew me away.....and thanks to supplement world for the fast delivery

..

Review by Stuntman

(22 January 2018)

Why is it sooo sweet? Makes me wanna puke

No1 SA's product

Review by Minenhle

(27 March 2017)

NPL elate mass gainer is the best supplement,you can try it and see what I'm talking about.

Doesn't mix well

Review by Daniel

(12 March 2017)

Tastes great but is doesn't mix well in a shaker or even in a blender

GREAT STUFF

Review by Danny

(4 January 2017)

It Taste great and stay long in your tummy which is an advantages for skinny guys to gain mass.
results depends on how you workout.
Its a gud stuff thou.

Elite Gainer

Review by Twinzeey

(13 November 2016)

I've been using the product for two weeks now and I see a major difference the best thing I've ever used.
if possible how can one get a sponsor

NPL the best suppliment

Review by T.kay.zee

(5 September 2016)

Its been two months since i started using N.P.L supplements,its tasty and i can see the results too,i feel great after drinking the supps too,chocolate,vanilla my favourite.... Thank you...

it tastes oily

Review by ndani

(6 August 2016)

you need to be super skinny to take this otherwise it will mess up your body

Great Product!!!

Review by KING M

(13 July 2016)

First time using NPL product and i'm glad that i was not disappoint. This is one of the best Mass gainer you will ever see result using it. Elite athlete= elite Gainer.

IT WORKS

Review by AJ

(27 June 2016)

FLAWLESS

Best Ever

Review by Om-Klim

(14 June 2016)

I must say, I used 3 different supplements before moving over to NPL.
Firstly it tastes awesome so it is easy to get down unlike the others .The elite gainer contains more then one product so it gives pleasing results. I would definitely recommend the product to all mass builders.

Proper mass gainer

Review by Zane

(6 April 2016)

Have been through most gainers but this one actually worked. 2kg after the first bucket, so very happy. Not the cheapest, but not expensive like Muscletech. Will keep on using. I recommend it.

100%

Review by Siya

(9 March 2016)

Good day Mam/ Sir

I'm Siya from soweto Zola2 I'd like to recommend your supplement I'm using Elite gainer its been two months now i can see a huge different in my body I can even show how I look I'm proud of my body now and it also give me strength I'm lifting heavy weights thanks NPL team

Best Regards
Siyabonga

Awesome

Review by Silvio

(23 October 2015)

This is the best supplement I ever had in terms of taste, effectiveness and all that, U my mam who's searching about this product I telling u this product it's Awesome don't think too much just buy it u will love it I'm Mozambican I import it every months from south Africa it's more cheaper

Pretty good

Review by Hardgainer

(6 August 2015)

Seen results in a week. Tastes good. Great recipe on container. Bad though, you use a lot so works out pricey and be prepared to fart your guts out.

Value for Money

Review by Soldier

(5 August 2015)

Taking 2-3 scoops per serving gave me about 27 servings. I feel this is great value for money as there is added Taurine, L-Glutamine, Creatine and 17g of BCAA's.
You pay for quality. I have seen massive results using this product!

Only 12 servings

Review by Kyle

(31 July 2015)

The product tastes good, no stomach issues but there are only 12 servings. I divided the serving in half so lasted just under a week. Definitely keeps me full and I picked up 500 grams (WHOOH), but for a month I'm look at over R800 gorillaz.