Product Info
Supplements SA Ultimate Test-Stack is a value pack designed to support natural testosterone levels and enhance protein synthesis.
The stack contains Beta Ecdysterone which is a natural plant sterol. Clinical studies suggest that Beta Ecdysterone may increase nitrogen retention and protein synthesis which makes your body more efficient at using the protein you consume from whey shakes and whole food sources which helps with lean muscle gains and fat loss.
Testo Blast supports healthy testosterone levels by including a combination of ZMA and Tribulus Terrestris. ZMA is blend of Zinc, Magnesium and Vitamin B6 which when taken just before bed assists with improved sleep and therefore better recovery for your next training session.
Tribulus is a phytosterol responsible for stimulating Luteinizing Hormone which promotes testosterone.
Healthy testosterone levels increase strength, shorten recovery and enhance a general sense of wellbeing.
Related Products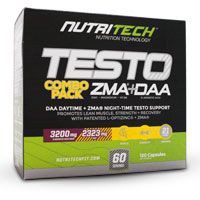 Nutrition Facts
Testo Blast
Serving Size: 5 capsules
Servings per Container: 20

Amount Per Serving

Magnesium Aspartate
225mg
Zinc Monomethionine Aspartate
30 mg
Vitamin B6
5.25 mg
Tribulus Terrestris
750mg
Beta Ecdysterone
Serving Size: 2 capsules
Servings per Container: 30

Per Serving

Beta-Ecdysterone

400mg
Ingredients
Allergen Warning: Contains no common allergens, but is produced in a facility that processes Whey, Casein and Egg.
Recommended products to use with this item
Directions
TESTO BLAST
• Maintenance: 3 Capsules
• Sport: 5 Capsules
• Anabolic: 3 Capsules in the morning & before training and 4 capsules before bed.
• Best taken at bedtime and before training.

BETA ECDYSTERONE
• Take one or two capsules twice a day with a protein rich meal.
• For best results take with Supplements SA Pure Whey protein drink after a workout or with Supplements SA Slow Release protein drink before bed.
Notice
This product has not been evaluated by the Medicines Control Council and is not intended to diagnose, treat, cure or prevent any disease.
Customer Reviews
Effectiveness vs Price

Review by A

(26 June 2017)

When comparing the above, this product is the Undisputed King of testo boosters! I've used Suppl SA testo blast extreme before and was happy, but decided to try some other products. Some were ok and others a waste of money so I decided to try this and once again they (Supplements SA) delivered the goods. I haven't even been using it regularly and only take 3 pills of the testo blast and the recommended 2 of the Beta-Ecdysterone at a time and only once a day!

Great Product

Review by Sean S

(18 October 2016)

I've been stacking well known and highly effective imported supplements for quite some time and was desperately looking for something local that is not only cheaper but just as effective. I've found it in this stack - great results; lean muscle mass and good fat loss. Working well in conjunction with Ganic F.

rate it 9/10

Review by Anelo

(15 September 2016)

I's rate it 9/10 and I will consider buying the product again.It was my first time using this product but it has given me best results

Best supp yet

Review by Kabousie

(22 July 2016)

On day 7 now and have already seen gains in muscle size and strength. Also drop in body fat. Already recommended it to a few of my friends.

didnt beilive it as I saw results

Review by Siphetho Mero Runeli

(29 April 2016)

this Stack is amazing and so effective with great results. Seen such weight loss and more than just definition and lean muscle showing everything out. And my friends have recently started using the product.

Awesome

Review by Started from da bottom

(25 August 2015)

Awesome product when used back to back for 8 weeks on and 2 weeks off. i have seen major fat loss and more definition.

my two favourite products just became cheaper

Review by mr_cheap

(20 February 2015)

great they introduced this pack. normally bought the two together, but now I get them both at a cheaper price. Supplement World rocks!