Related Products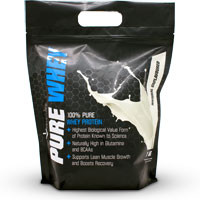 Nutrition Facts
Serving Size: 30 g (1½ scoop)
Servings per Container: 67 (2kg)
Amount Per Serving
%NRV
Calories
121.8
*
Calories from Fat
21.6
*
Total Fat
2.4 g
*
Saturated Fat
1.5 g
*
Trans Fat
<0.1 g
*
Cholesterol
60 mg
*
Sodium
42 mg
*
Potassium
135 mg
*
Total Carbohydrate
1.7 g
*
Dietary Fibre
0 g
*
Sugars
1.7 g
*
Protein
23.4 g
*
Pottasium
170 mg
*
Vitamin A
75 IU
*
Vitamin C
<1 mg
*
Vitamin D
<6 IU
*
Iron
0.9 g
*
Calcium
225 mg
*
Phosphorus

108 mg
*
Magnesium
21 mg
*
Moisture

1.4 g
*
Ash
1.2 g
*
AMINO ACID PROFILE PER 100g
Alanine
4.9 g
Arginine
2.1 g
Aspartic Acid
10.8 g
Cysteine
2.3 g
Glutamic Acid
16.7 g
Glycine
1.8 g
Histidine*
2.2 g
Isoleucine *++
5.8 g
Leucine*++
10.8 g
Lysine
9.6 g
Methionine*
1.9 g
Phenyalanine*
3.3 g
Proline
5.8 g
Serine
4.7 g
Threonine
7.2 g
Trytophan*
2.1 g
Tyrosine
1.8 g
Valine*++
5.8 g
* Essential Amino Acid
++ Branch Chain Amino Acid
Ingredients
80% Whey Protein Concentrate.
Allergen Information: Contains Whey and is produced in a facility that also processes Casein and Egg.
Recommended products to use with this item
Directions
• Add 1 scoop to approximately 250ml of water or milk.
• The whey protein can be stirred with a spoon or mixed in a shaker.
• Add a serving to a smoothie and drink as needed for increased protein intake.
• For a fitness lifestyle have a serving after your workout.
• For improved muscle tone follow a weight training program 3 – 4 times per week.
Customer Reviews
Excellent value for money

Review by JP

(3 October 2018)

Perfect unflavoured whey concentrate. I'm very happy with it. I especially love how easily it mixes and doesn't clump together like other products I've used. Very happy with the price as well. Will continue to buy this. Pity there is no scoop with it but I still can't complain about this product. Seeing great results.

Great product, no added crap

Review by J

(20 November 2017)

Great product. For taste add cacao or something else to taste.
Delivery from supplementworld was on time and professional.

Will order this product from them again!

Value for money

Review by sands

(1 August 2017)

I have been using this product for several months, and will continue to do so. No artificial sweetners, no colourants, mixes well with orange juice or a spoon of honey (natural sugars). On its own the taste is like LOW FAT MILK (delicious). Introduced a few clients to this product.

Finally found what I am looking for

Review by KC

(10 January 2017)

I have been looking for a pure whey protein without all the added junk like aspartame , sodium cyclamate , acesulfame K or saccharine which makes me feel terrible. I was most excited when I stumbled across this website. I placed my order and got whey 2 days later. The taste , bearing in mind there are no sweeteners is very palatable and the whey dissolves easily in water .... what more can I say , great product , great service ... I am sold on it.

Solid quality at reasonable price

Review by Georg

(16 September 2016)

I bought this when it was at the best bang for bang R/Kg rate, No complaints on the quality, it dissolves well, taste is great.

Worst tasting unflavoured

Review by keith

(11 January 2016)

The unflavored whey concentrate is the worst I've tasted. It is somehow sweet with a salty aftertaste.

Finally

Review by Kim

(9 November 2015)

Been looking for quite a while for an unflavoured Whey shake without sweeteners. Dischem used to stock something similar but discontinued it. Glad I found Supplement World. This really has no taste, just the raw ingredient.

Quality

Review by Scientist

(16 September 2015)

For all those that are concerned about the quality of whey shakes out there, well this is the top IMO. It is JUST the whey concentrate ingredient, NOTHING else. No hiding behind flavours, fillers, etc. Pure whey. Love it!

Great Value

Review by Lawrence

(2 September 2015)

This is the best whey on the market. Nothing added, no bulking agents, just straight up whey. I love the pure whey which I can add to everything!

Horrible taste!

Review by Afrit

(31 July 2015)

I know it said unflavoured but seriously does it have to be that bad! Taste so bad I had to buy nesquick to put into it. Be very careful.

Love it

Review by Vanessa

(7 July 2015)

Unflavoured, unsweetened plain whey for my smoothies. Just what I have been looking for!

Awesome

Review by Jaco

(24 June 2015)

Surprisingly great taste. If you've ever tried powdered milk, this taste quite similar. So nice that it doesn't have any sweeteners added. Last bit doesn't always dissolve so perfectly though. All in all my favorite Whey. A little expensive considering it has no added BCAA's etc.

read the label

Review by Philip

(18 June 2015)

This is good product, if you read the label you will see this is especially for those who dont like the very sweet stuff and for making your own smoothies or shakes with other products. How can you say bad taste, thats what it say Unflavoured meaning it will taste bad, maybe read before you buy it Zu or get the 2.5lkg flavoured one

Not for lactose intolerant

Review by Nadine

(11 June 2015)

I like the taste, it's not bad, pretty neutral. Simple and effective product apart from the bloating and indigestion I've associated with this.

Awesome product

Review by Mandz

(26 May 2015)

Just love the 'naturalness' of this product!! If you want a chocolate milkshake, DON'T buy this. If you don't want artificial sweeteners or flavours .... magicness :-)

good protein source

Review by Barend

(20 May 2015)

I just wanted a plain protein shake. Like things to be simple without flavours, sugars,etc. This is perfect! Use in smoothies (fruit and veg) and after training. A little coffee adds a nice flavour. Just make sure that you have a spare tub .... only the bag and no scoop.

Overall best value for money

Review by Pierre

(1 April 2015)

The taste isn't great. It does however make up with price, seeing as there's no container, they save you a lot of money. The effectiveness is everything you want and need from a good whey concentrate. Great product overall.

Brilliant

Review by Cindy

(28 March 2015)

Just plain whey protein that I can use for my bars and shakes. I don't tolerate sweeteners well and sugar is a no no. Price is great. Fantastic product. Beware: it is basic. no tub and no scoop. Have a spare container and scoop on hand.

bad taste

Review by Zu

(18 March 2015)

taste is horrible. price is cheap but will look at another product with better flavour.

Happy days

Review by Les

(27 February 2015)

Needed to increase my protein. Was recommended to use a whey protein but to be honest I just cannot stomach the taste of most. The the staff at SW suggested this and I love it. I drink it on its own which I like otherwise mix it in my smoothies. Just had to find a container to pour the bag in, but no biggie. Happy Gal :-)

cheap

Review by no complaints

(26 February 2015)

good price for a great product. don't mind being unflavoured. could had a scoop though....

2 Thumbs Up

Review by Daniel

(24 February 2015)

You know what you are getting with this product. No masking behind flavours, 'blends', etc. Just make sure you have a tub and scoop because this comes without which doesn't bother me. I just want good clean protein at a great price! Supplement World rocks for stocking this product!

Not what I expected

Review by Nathan

(20 February 2015)

Being unflavoured I thought it was going to have teeth considering how bad some of the flavoured shakes are! Well I was pleasantly surprised. It has a milky taste. At least I know I'm getting 100% whey with this. No blends, flavourants, sweeteners. Definitely my go-to whey for the future.

Best whey I've used

Review by Jarred

(11 February 2015)

This is versatile. Can flavour it how I want, my wife makes protein bars/cookies. Uses it in smoothies. The cheapest Whey anywhere ..... I've checked. No fancy packaging. Just good quality whey. Period.

Like!

Review by Wenna

(3 December 2014)

Like that theirs not allot extras added. unflavoured very nice as to be used with cooking for sauce thickening ( don't cook the whey boys)
Add peanut butter to change it up.

great_stuff

Review by Iron_Man

(1 December 2014)

no fancy extracts on the label that do nothing - just good value for money.
I add this to my MRP to up the protein - makes bought items last longer and more effective. on its own its good as a late night BCAA boost with low cal's.
well worth adding to your eating routine.

Saving

Review by Mo

(24 November 2014)

No bells and whistles to this product. Getting exactly what you are paying for which is the whey protein concentrate. Don't mind that it does not have any flavour, like drinking a glass of milk. Sometimes I'll add a Banana or a tablespoon of Peanut Butter.

Perfect and value for money

Review by Lucy

(18 November 2014)

Love this product! I make a lot of protein cookies, pancakes and smoothies so being unflavoured and unsweetened is perfect. For a shake I just add instant coffee. The price is the best I've seen so far.

Great Unsweetened

Review by V

(14 November 2014)

Thank goodness for an unsweetened whey powder! The others are all far too sweet for me.

Cheap and does the job

Review by fit_guy

(6 October 2014)

This product is great! Really cost effective. I don't mind that it is unflavoured or sweetened. Adding a teaspoon of coffee does the trick.