Product Info
EVOX 100% Whey Protein Advanced is a blend of premium protein sources for rapid uptake and recovery.
Improved Recovery Time
A high quality protein shake helps you recover from your workouts and helps build lean muscle.
Current research indicates that without a good source of bio-available proteins which you get either from nutrition or supplementation, your lean muscle and fitness goals are hampered.
Get More Muscle
The best time to use a Whey Protein shake is straight after your training to provide your body with amino acids which provide essential nutrients to start the muscle building process.
This has 23 grams of quality protein and 4.8 grams of branched chain amino acids which stimulate more lean gains.
Improved Formulation
EVOX's new and improved formulation includes a unique blend of Whey Protein Concentrate, Isolate and Hydrolysate which is a highly digestible and fast acting form of protein.
Absorption Rates
Approximate digestion rates for the different protein sources are 15 minutes for Hydrolysate, 30 min for Isolate and 60 min for Concentrate. This product starts supplying protein within a few minutes which is crucial for optimal recovery.
Better Digestion
Included is Tolerase L which is a blend of Lactose enzymes which help to minimise any digestive discomfort experienced by those sensitive to dairy products or who are lactose intolerant.
Protein Shake Pedigree
Known for their great tasting shakes, EVOX have once again delivered with a variety of tasty flavours to choose from.
We can comfortably recommend that you try new Whey Protein Advanced as a high-quality delicious shake to help you reach your fitness goals.
Related Products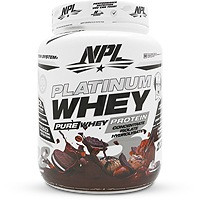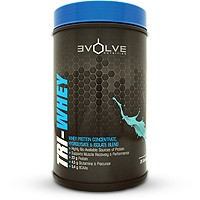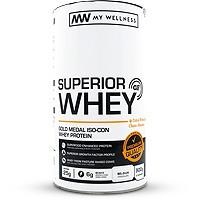 Nutrition Facts
Flavour: Chocolate
Serving Size: 2 Slightly Rounded Scoops (32g)
Servings per Container: Approx 28 (908gm) / 62 (2kg) / 100 (3.2kg)

Amount Per Serving
% Daily Value
Energy
503.4 kJ
Protein
23.0 g
41%
Total Carbohydrates
3.0 g
of which sugars
1.8 g
Total Fats
1.7 g
of which saturated
1.0 g
Total Fibre
0.2 g
Sodium
140 mg
Potassium
171 mg
Calcium
162 mg
12%
Magnesium
20 mg
5%
Phosphorous
106 mg
8%
AMINO ACID PROFILE
(gram / 100g)
Alanine
3.35
Arginine
1.83
Aspartic Acid
7.63
Cysteine/Cystine
1.55
Glutamic Acid/Glutamine
12.58
Glycine
1.28
Histidine
1.53
Isoleucine
4.15
Leucine
7.55
Lysine
6.49
Methionine
1.53
Phenylalanine
2.27
Proline
4.74
Serine
3.65
Threonine
4.63
Tryptophan
1.27
Tyrosine
1.95
Valine
3.86
Taurine
0.00
AROMATIC AMINO ACIDS
(phe & tyr)
4.22
SULPHUR AMINO ACIDS
(met & cys)
3.08
BRANCHED CHAIN AMINO ACIDS
(leu, iso, val)
15.56
Nutrient Reference Values (NRVs) for individuals 4 years and older.
Ingredients
Whey Protein Blend: (Whey Protein Concentrate, Whey Protein Hydrolysate, Whey Protein Isolate), Cocoa Powder (Only in Chocolate), Maltodextrin, Cookie Crumbs (Only in Cookies & Cream (Contains Gluten)), Flavourants, Salt, Stabilizer, Sucralose and Acesulfame-K Blend, Tolerase L, Colourants (E122 Only in Strawberry).
ALLERGEN INFORMATION
Cow's milk. Contains lactose (milk sugar), but remains suitable for lactose intolerant individuals due to the addition of Tolerase L (Lactose enzymes).
May also contain traces of soy, peanuts, tree nuts, wheat (gluten) or crustaceans.
Directions
• As a dietary supplement add 1 slightly rounded scoop (32g) to 150 – 200 ml cold water and blend.
• For increased protein requirements add 2 slightly rounded scoops (64g) to 300 – 400 ml cold water.
• Most important time to drink a serving is directly after your gym session.
• Athletes who train frequently can take another serving first thing in the morning.
• To ensure that you meet the protein requirements necessary to support your goal, you can make use of 1-4 servings daily for an improved protein intake frequency which is especially important for active individuals and athletes.
Notice
Seek advice from your primary healthcare professional prior to use, especially if you have a known medical condition. Not suitable for pregnant or lactating females, or individuals under the age of 12 years. Individuals aged 12-18 should not exceed one recommended serving daily. Do not use as a singular source of nutrition.
The ingredients used to develop and formulate this product are not sports banned substances.
Customer Reviews
Money wasted!

Review by Lava duro

(16 February 2020)

This product is totally wasted of money..terrible product.shakes like crap.
USN products will always be the best????

Dissapointed

Review by Vusi

(19 November 2019)

This whey doesn't mix, you need a blender just to mix it, and it tastes like crap with water. Also made me very bloated, waste of money!

Geat

Review by GT

(24 July 2019)

Great product but its too sweet for me.

Most effective protein I've had so far

Review by Jeremy

(19 May 2019)

Taste:
This is the best protein I've had so far. The taste of the cookies and cream flavour does it for me. It may not be to everybody's liking due to it being relatively thick but I do quite enjoy it. Does not leave me feeling bloated. The chocolate flavour is mediocre at best, to be honest. Haven't tried the other flavours as yet.

Effectiveness:
I find that my body recovers very quick after having a serving post-workout. Always with a high protein meal and some carbs lol Been using it for many months and my strength and size has gone up quite a bit.

Price:
Sadly, this isn't cheap anymore but then again that's the case with all good quality whey proteins. With that said, you're still paying for a top quality whey protein that tastes good and is effective. Cannot go wrong with Evox.

great

Review by hf

(21 March 2019)

great and affordable

Awesome

Review by Tshepiso

(3 December 2018)

It is actually good if you want lean muscle


Best whey

Review by Dash

(5 October 2018)

The best whey for the price. Tastes great! Prefers the Evox premium whey though. Sad it's discontinued.

Excellent as usual

Review by Hir0

(26 July 2018)

Bought this on special and is the best whey for its price per serving IMO.
I have the Chocolate flavor and it tastes good with water and even better with milk, mixes well in a shaker.
I don't see why other reviewers are having issues with it. Perhaps a bad batch.

BRILLIANT

Review by Lee

(25 July 2018)

Excellent whey product. Great taste and easy to mix. Double serving is most effective after a hard workout. Great service from the Supplement World team as well !

Love it!

Review by Awehness

(9 May 2018)

Fantastic product !! You won't be disappointed if lean muscle is what you want.

Great supplement

Review by Seunsterz

(9 May 2018)

Great supplement ..very effective .
I take 3 servings per day with creatine monohydrate.

Good supplement

Review by Auke steyn

(9 February 2018)

Works welll, at start the taste is a bit weird, but you get used to it

Can't complain

Review by Raul

(28 December 2017)

So far it's been working for me it mixes good with water and milk taste is a bit sweet for me and I've been seeing gains but the best part is that it agrees with my stomach

Enjoying it thus far

Review by ANT

(18 December 2017)

Working well for me with no side effects so far ahaha

My first time

Review by Dollie

(15 December 2017)

Haven't tried other shakes other than this, but i can say Evox is truly good. With water it tastes a but weird but you get used to it. Use MILK!!! tastes much better. #cookiesandcream

Effective. Tastes bland

Review by ipaperpush

(5 October 2017)

Effective in weight control and muscle maintenance.

Tastes bland. Mixes well with strong cold filter coffee and ice also improves the taste. (Vanilla, Chocolate, Cookies & Cream)

Very Good Shake

Review by CG

(30 August 2017)

Taste is great. I use cookies and cream. Mixes well. No cramps at all. Getting good gains. I would buy evox anyday. I have no issues with this product.

Very effective

Review by Kodakwashi

(2 August 2017)

I've been using it for 3 weeks now. I'm seeing great results.
It doesn't blend with a spoon in a cup but with a bottle specially blender bottle it mix nicely.

Won't mix, taste is not great.

Review by Stephan

(23 July 2017)

The only way to mix this with water or milk is in a blender. The apple crumble flavour is ok, but it's too weak to cover the taste of the whey.

Good value

Review by Veteran

(15 July 2017)

For the price I think it's the best bang for your buck at the mo. After 20 yrs training I don't expect to grow any more but since I switched to this from pricey optimum I haven't lost any muscle. So if it's gonna save me beer a grand a month then, hey, why not. Just wondering though why some are commenting on amino spiking when it says 'no amino spiking' on the tub. I would have to question if they actually used the product and if it isn't trolling from competition...

Very good

Review by Ice

(19 April 2017)

My favourite whey is ON, but it is extremely expensive, but Evox is a close second. I am getting very good gains of this Whey and the cookies and cream taste amazing and in just a couple of shakes it dissolves very easy. So I really don't get the "lumpy" that some other users here complained about. Maybe check your expiry date . . . I am also quite amazed by some of the reviews (stomach cramps) and my stomach does not like whey a lot, therefore I use ON and Evox because of the "tolerase" enzyme. Stomach cramps, no way!! This is great value for money. Don't think WP and Stormers will use Evox as there official sports supplements if it was not any good.

JUNK

Review by Coleman

(19 February 2017)

Was a loyal evox user until I met with this junk that doesn't want to mix, it just lumps. I will never ever buy evox again after years of using there products. A real waste of money.


Great Results. Horrid Taste

Review by Oliver

(4 February 2017)

The shake mixed very easily for me although I had to add an extra 100ml of water with it because the taste was so bad and need watering down, milk make a negligible difference. I couldn't even stomach the smell in the tub. However, I have seen fantastic results while cutting on this, better than anything else in this price range. I won't buy it again though because the taste literally make me feel nauseous.

Noob

Review by Noob

(1 February 2017)

Bit sweet but useable for the price

Happy with taste and price

Review by Miles

(21 November 2016)

Been a long time evox users. Their shakes just taste great! The price is affordable especially if you buy the 3kg size. Tried the apple crumble, yeah was okay. Rather stick to chocolate or cookies and cream. yum

INDORCE

Review by SVALO

(16 November 2016)

WHEY PROTEIN EVOX IS THE BEST

very good

Review by romeo maxwell

(19 October 2016)

used many shakes before this one, and for me i must say this one is the best by far

i liked it

Review by Mike

(22 September 2016)

the chocolate one tastes nice. will see if i gain or not about 2 hit the gym

rubbish

Review by Audz

(10 September 2016)

Tastes very bad couldn't finish a bottle of the shake then 3 minutes later got stomach cramps couldn't walk thought i was dying.

Terrible

Review by Angie

(10 June 2016)

I felt like I was swallowing sugar. The taste is really bad. Never buying it again.

Terrible!!!

Review by Ben

(9 June 2016)

Tastes bad and doesn't mix well. I prefer the old evox 100% whey

Very disapointed

Review by Morné

(5 June 2016)

This "new" formula does not mix no matter what you do. It tastes worse as well. Get it sorted please damn.


Rubbish

Review by beats

(1 June 2016)

Evox use to be great now but not anymore the thing won't even mix even with a blender. there is nothing advanced about this protein, never buying evox products

Worst product by far

Review by Rahfiq

(13 April 2016)

This is the worst whey ever made. Used to use the synergy which was great but switched to this crappy product. No matter how i try the mixture is ALWAYS lumpy. Load of trash

Rubbish

Review by Gregory

(3 March 2016)

I bought the cookies and cream and its horrible. It does not mix well and it actually has real cookies in it. Total rubbish and I bought the 2kg which I eventually threw away because I just could not stand the taste any more.

american flavour

Review by fit_boy

(21 February 2016)

got a tub of the apple crumble flavour. omg .... tastes just like an american brand. if evox keeps coming out with more flavours like this .... happy days!

*Rubbish*

Review by Ashh

(18 February 2016)

I tried 3 different flavors and they were all very sweet didn't dissolve well, Evox seems to experiment a lot and only get it right 1 out of 3 times this for me is a total miss!!!

Back to old self

Review by Ryan

(18 February 2016)

Was a long time evox 100% whey user, then they stopped it and brought out a new product which was total rubbish. Overpriced for amino-spiked milk solids. Thankfully they have discontinued that and seem to have gone back to their old ways. Got the small tub to try it out. Not the cheapest, but the taste is great. The taste was one of the reasons I was an evox fan.