Product Info
Nutritech® is industry known for protein quality; real, true and pure proteins, unrivalled Flavour profiles and free of added sugars, fillers, dextrose or amino-spiking.
Nutritech Notorious NT Whey™ honours this legacy of nutrition technology by offering a protein that is pure in form, real in flavour and true in results. Muscle recovery is all about the speed of absorption; the advanced Notorious NT Whey™ formula is engineered with 23 grams of cold filtered rapidly releasing micronised whey protein Isolates and concentrates sourced from premium quality pasture-based grass-fed dairy [72%].
Containing only 118 calories per serving, Notorious NT Whey™ is versatile enough to satisfy no matter your fitness goal An exceptional choice of protein by any athlete, providing the ideal environment to support recovery, lean muscle growth and strength gain with 5 grams of naturally occurring Branched Chain Amino Acids [BCAAs] Leucine, Isoleucine and Valine packed into every single serving.
Nutritech Notorious NT Whey™ mixes easily and is fast adsorbing, perfect to gulp down post workout.
RAISE THE BAR, RECEIVE THE GAINS.
Premium Grass-Fed cold filtered protein formula
Frequently Asked Questions (FAQs)
What has improved with the NEW Nutritech Notorious NT Whey
The new Notorious NT Whey uses whey protein Isolates and concentrates sourced from premium quality pasture-based grass-fed dairy.
Are the ingredients still the same?
No. The old version used sodium cyclamate, sodium saccharin and scesulfame potassium as non-nutritive sweeteners. Notorious NT Whey uses the popular sucralose and acessulfame potassium. See the full list of ingredients.
How much Protein, Carbohydrates and Fat per 100 grams?
There is 72 grams of Protein, 9 grams of Carbohydrates and 4.9 grams of Total Fat.
What sizes are available and how many servings per each?
Available in 908 grams (28 Servings), 2 kg (62 Servings) and 3kg (93 Servings).
Why is the new version only 3 kg for the same price as the old version's 3.2 kg?
The simple answer is the increasing cost of raw materials, in particular whey protein. In order to give you the same quality product they had to reduce the size due to the increasing global whey prices.
What flavours are there?
Available in Banana Custard, Chocolate Milk, Cookies & Cream Gelato, Cream Soda Float, Peanut Butter Milkshake, Peppermint Choc Sundae, Strawberry Ice Cream and Vanilla Soft Serve.
Related Products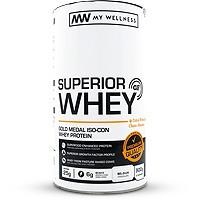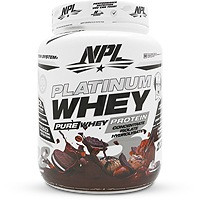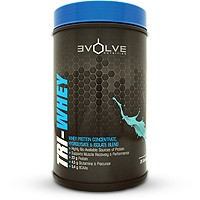 Nutrition Facts
Serving Size: 32 g [ approx. 2 scoops ]
Servings per Container: 28 (908 grams) / 62 (2 kg) / 93 (3 kg)

Per 100 g
Amount Per Serving
NRV* per serving
Energy [ kJ ]
1564
500
Energy [ kcal ]
370
118
Protein [ g ]
72
23
40%
Carbohydrates [ g ]
9
3
of which is sugar [ g ]
5
2
Total Fat [ g ]
4.9
2
of which saturated fat [ g ]
2.2
1
Cholesterol [ g ]
0.19
0.06
Dietary Fibre [ g ]
1.1
0.4
Sodium [mg]
466
149
*Nutrient reference values [NRVs] for individuals from the beginning of 37 months and older expressed per single serving
TYPICAL AMINO ACID PROFILE
Alanine [ g ]
3.6
1.1
Arginine [ g ]
1.9
0.6
Aspartic acid [ g ]
7.5
2.4
Cystine [ g ]
1.9
0.6
Glutamic acid [ g ]
12.3
3.9
Glycine [ g ]
1.4
0.4
Histidine [ g ]
1.3
0.4
Isoleucine** [ g ]
4.3
1.4
Leucine** [ g ]
7.2
2.3
Lysine [ g ]
6.2
0.2
Methionine [ g ]
1.7
0.6
Phenylalanine [ g ]
2.3
0.7
Proline [ g ]
4.3
1.4
Serine [g]
3.6
1.1
Threonine [ g ]
4.9
1.6
Tryptophan [ g ]
1.4
0.4
Tyrosine [ g ]
2.3
0.7
Valine** [ g ]
4
1.3
** Branched chain amino acids [BCAAs]
Ingredients
Notorious Whey Protein Blend [Whey Protein Isolate, Whey Protein Concentrate], Milk Protein, Flavouring, Cocoa, Sea Salt, Xanthan Gum, Non-Nutritive Sweeteners [ Sucralose, Acessulfame Potassium], Emulsifier: Sunflower Lecithin.
ALLERGEN INFORMATION
Contains: Cow's Milk
Manufactured in a facility that uses eggs, dairy, soy, wheat (gluten) and nuts.
Recommended products to use with this item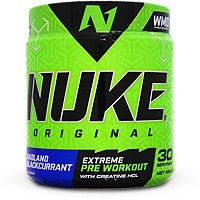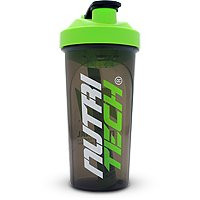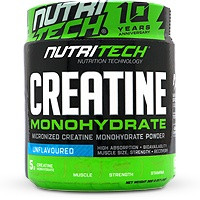 Directions
• Mix 2 level scoops [approx. 30g] with 200 ml of water in a NUTRITECH® shaker.
• Shake thoroughly and drink within 30 minutes of completing your workout.
• Take 1-3 servings per day, or as required to satisfy your daily protein needs.
• To achieve an amazingly thick milkshake taste, use whole milk.
Notice
These statements have no been evaluated by The Medicines Control Council [MCC]. This product is not intended to diagnose, treat, cure, or prevent any disease. Consult your doctor prior to using this product especially if you have any suspected or known medical condition. Do not exceed recommended daily intake. Dietary supplements should not replace a proper diet.