Product Info
Nutritech Whey Protein is a quality shake available in many delicious flavours for fitness athletes demanding the best.
Lean Muscle Builder
Lifters and athletes need protein to build muscle.
Each serving of this shake will give you the full recommended dose of 23 grams protein for optimal lean gains.
Protein Blend
The protein is made up of fast-acting Isolate and slower Concentrate for sustained protein supply.
Recover from your Workouts
To train consistently at their peak performance athletes need adequate recovery from their gym sessions.
Two scoops of this whey shake contain enough Branched Chain Amino Acids (BCAAs) to help your body recover better and faster.
Independently Tested
The manufacturers are meticulous about product quality. They routinely conduct independent tests for macronutrient profiling and melamine screening by SANAS accredited laboratories.
ISO 22000 Certified Facility
The certification shows the manufacture has proper food safety management in place across the entire supply chain.
Delicious Flavours
Nutritech Whey Protein has 9 delicious flavours to choose from.
Apart from the standard Chocolate and Vanilla they have more exotic Cinnabomb and American ice-cream soda.
Tub Sizes
Available in 1, 2 and 3.2kg sizes this protein shake will suit any athlete's budget. The 3.2kg tub offers the most servings and savings.
Nutritech have developed a shake that has a strong following in the fitness community due to its great taste and affordability!
Related Products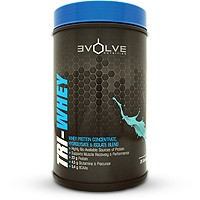 Nutrition Facts
Serving Size: 32 grams (2 scoops)
Servings per Container: 31 (1kg) / 62 (2kg) / 100 (3.2kg)


Amount Per Serving
NRV*
Energy (kJ)
482
Protein (g)
23
Carbohydrates (g)
3
of which total sugar (g)
2
Total Fat (g)
0.9
of which saturated fat (g)
0.48
Cholesterol (mg)
12.8
Dietary Fibre (g)
0.8
Total Sodium (mg)
73.6
TYPICAL AMINO ACID PROFILE
Alanine (mg)
1179
Arginine (mg)
592
Aspartic acid (mg)
2545
Cystine (mg)
620
Glutamic acid (mg)
4058
Glycine (mg)
439
Histidine (mg)
445
Isoleucine** (mg)
998
Leucine** (mg)
2763
Lysine (mg)
2212
Methionine (mg)
442
Phenylalanine (mg)
781
Proline (mg)
1151
Serine (mg)
1098
Threonine (mg)
1229
Tryptophan (mg)
478
Tyrosine (mg)
800
Valine** (mg)
926
* Nutrient reference values (NRVs) for individuals from the beginning of 37 months and older expressed per single serving.
Dietary Fibre method of analysis - AOAC - 991.43
** Branched chain amino acids (BCAAs)
Ingredients
Protein Blend (Whey Protein Concentrate, Whey Protein Isolate), Flavouring, Colourants (E133), Non-nutritive sweeteners; Sodium Cyclamate (E952), Sodium Saccharin (E954) and Acesulfame Potassium (E950), Emulsifier: Soy Lecithin.
ALLERGEN INFORMATION
Contains cow's milk and soy.
Manufactured in a facility that uses eggs, dairy, soy, wheat (gluten) and nuts.
Recommended products to use with this item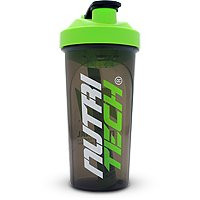 Directions
• Mix 2 or 4 scoops with 200 to 400 ml of water or milk.
• Take 1 to 3 servings per day.
• Take one serving within 20 minutes after your workout.
• On non-training days take a serving first thing in the morning.
• To add more protein to your diet, take 2 to 4 scoops before exercise and between major meals.
Notice
Regular training and proper nutrition are essential for achieving your goals. This product is not intended to diagnose, treat, cure, or prevent any disease. Consult your doctor prior to using this product especially if you have any suspected or known medical condition. Do not exceed recommended daily intake. Dietary supplements should not replace a proper diet.
Customer Reviews
Impressive, even in China

Review by Giliam Winckler

(26 November 2020)

Loads of brands are available here for us expats working and living in China, but one can NEVER replace a proper home-made powerful and amazing South African brand like this.

I'm using your whey protein and absolutely love the taste and how well it works, either before or after my workouts. Your flavors are great too.

I insist, along with others here, that you continue all the good work and I really hope you expand even further here in Asia too.

Sick

Review by Phil

(24 November 2020)

Good afternoon SW.

I've used this product for about 3-5 times. Each times using the peanut butter flavour, you start to feel sick and dizzy.

Several other users have experienced the same sick feeling.

SW:

Hello Phillip,

We've been selling the Peanut Butter flavour for over 5 years, with this being the first mention of feeling sick and dizzy.

The effects you are feeling are most definitely not to be expected from a whey protein. That is more a preworkout or fat burner.

Your feedback has been forwarded to Nutritech for comment which we will post here once we receive it.

This is the Whey

Review by JouPa

(18 November 2020)

got the Choc-mint , very good flavor not too sweet and mixes very well. and doesn't have all the junk ingredients others have

Nice

Review by TC

(9 October 2020)

The Strawberry is very nice, it taste similar to Nesquick when taken with milk, with water it's really gross.

Digests really well, glad it contains no Soy.

Pretty much the same as every other Whey, that includes Expensive Brands like Muscle Tech and Optimum Nutrition.

The Choclate flavour used to be the best, but seeing as they did something to it.It is really disgusting... Don't know why they would mess with the flavour...

Why fix something, when it ain't broke?


Great Value For Money

Review by Josh

(15 April 2020)

Lekker tasting whey protein which mixes easily, tastes delicious & a good bang for your buck!

Amazing flavour

Review by Tyrone

(25 February 2020)

I really enjoy the chocolate flavor. Affordable whey protein and does the job. Always looking forward to my Nutritech Whey Protein after my training.

Good product

Review by Gavin

(23 February 2020)

Still my go to protein. Chocolate for the win

Amazing flavour and recovery

Review by Brina???? Black

(8 January 2020)

Have used USN for some time until I came across this tasty brand. Vanilla for the win for me and the recovery is amazing. Nutritech just beats USN in every thing on my check list.... Also amazing results and I am lactose intolerant but this whey still treats my gut with love.

Awesome product!

Review by Big G

(31 August 2019)

Love it and tastes great. No bloating and mixes well.

Effective and Good Value for Money!

Review by ShowOff

(26 August 2019)

Have been using it for only two months, daily or every second day and I can honestly say there's been an increase in strength; muscle definition and growth. It is excellent when it comes to recovery after training. My advice will be to follow the mixing instructions because it does make a difference (the 2-4 scoop range as directed on the back of the bottle) and most importantly, train hard, preferably in the 8-12 rep range for hypertrophy per individual muscle group. I've only tried two flavours so far, the chocolate and the choc-mint. The chocolate is a bit sweet for my liking, whereas the choc-mint is more neutral with a slight minty after-taste which is fine for me.

Best Value For Money

Review by NotNovice

(7 August 2019)

Great product, great flavours and great price when you want whey that is not amino spiked.

Bang for buck

Review by Kats2512

(27 May 2019)

One of the best whey proteins that I have tried.

Peanut butter is by far the best flavor, easy to mix, no bloating, no unmixed blobs of powder in the shaker after mixing.

Price is decent as well.

Well priced and works great

Review by Joe

(24 March 2019)

3.2kg is very well priced. Works and taste great!

Works well and taste great

Review by Tiaan

(18 March 2019)

Chocolate for the win????????

Very tasty!

Review by Grant

(17 March 2019)

I love Nutritech whey!

Well priced and good quality

Review by John

(12 March 2019)

Happy with this whey. Extremely well priced. Taste great as well

I like it!

Review by Chad

(17 February 2019)

Works well and tastes great!

Best

Review by Slapchips

(14 February 2019)

As far as taste goes Nutritech stays the best

Does the same as any other whey protein

Good price and fast delivery

Best protein that I have used

Review by Henry

(10 February 2019)

Best protein that I have used. Big ups to Nutritech

Its good

Review by Quinton

(7 February 2019)

I like Nutritech whey. Been using it for years

Taste really nice

Review by Jabu

(6 February 2019)

I enjoy the taste and texture. Very creamy and smooth and mixes well. Always been a vanilla fan as I add it to my smoothies and cereal

Love this whey protein!

Review by Thandeka

(27 January 2019)

Love this whey protein!

Great product

Review by Wiaan

(24 January 2019)

Always looking forward to my Nutritech Whey after training

Chocolate flavour has changed

Review by Victor

(23 January 2019)

Use to taste great, however something has changed of late, and chocolate flavour tastes more like cookies and cream, not good at all

Great product

Review by Reon

(22 December 2018)

Always looking forward to my Nutritech whey. 10/10

Great!

Review by Charl

(19 December 2018)

Love this Whey

Fantastic!

Review by Joe B

(18 December 2018)

Vanilla is great. Add it to my smoothies as a post workout drink. Tastes great without any bloating

Nutritech Whey!

Review by Gavin

(17 December 2018)

Love NT Whey. Chocolate the best of the lot. Works well and tastes great

I have strawberry flavor, i think its taste horrible

Review by FISTO

(13 December 2018)

I think its taste bad

Great Value and Taste

Review by Ameer

(6 December 2018)

I'm a hardgainer trying to do it as natural as possible. Usually protein shakes make me gag with artificial sweetness and that whey stench. This protein shake mixes perfectly, no lumps. No bloat and i can down it very quickly. The Cinnabomb taste is great, think tasty vanilla with a hint of cinnamon. Tastes like a sterie stumpie when mixed with half milk half water. Digests and absorbs easily, no gas or farting.. Great value for money, highly recommended

Its a great whey

Review by Dilly

(6 October 2018)

Iv used lots of different brands and for me nutritech is one of the best

Awesome Whey!

Review by Wiaan

(30 September 2018)

Been using nutritech whey for about 2 years. Gone through all the flavours. Granadilla is absolutely gross, seriously stay away. But the others are perfect. Peanut Butter is my favourite. Price and quality top notch. No bloating and mixes well.

Awesome!

Review by Ignus

(22 September 2018)

I enjoy Nutritech Whey, especially the Chocolate flavour. All the flavours I have tried is very nice but I prefer Chocolate. I drink up to 3 servings a day and had great results. Will keep on using.

Very happy

Review by Gavin

(21 September 2018)

Good protein and well priced

Very happy!

Review by Callum

(19 September 2018)

My preferred Whey. Been using Vanilla since 2017. Add to my morning oats as well as smoothies

What a great product!

Review by Gabrielle

(15 September 2018)

What a great product! Very happy with Nutritech. Keep up the good work

Very good product!

Review by Yvette

(15 September 2018)

Very good product!

Great Whey

Review by Jamey

(14 September 2018)

Really enjoying this Whey. Big thumbs up!

Awesome Whey!

Review by Steve G

(2 September 2018)

Awesome Whey and works great!

Guys best whey i tasted,good price for a quality Whey Protein,have seen good results with Nutritech thank you Nutritech!!

Review by Ryan Fredericks

(1 September 2018)

Outstanding whey protein. It has a good taste with awesome recovery love this product and price is reasonable. Thank you nutritech.

Best in the Biz!

Review by John

(2 August 2018)

Love this Whey. Great tasting and zero bloating. Taste great with oats in the am as well

No1 Whey Protein

Review by Tamara

(20 July 2018)

I absolutely love this brand! I have finally found a whey protein that doesn't bloat me or make me gag. Best in SA by far, keep it up Nutritech!

Great taste and value for money

Review by Shasha

(3 July 2018)

better than USN

Awesome product

Review by Rina

(30 April 2018)

This is my go-to brand.
Taste is awesome!
Keeps you full and works wonders.

lots of flavours - good price

Review by Louw

(12 October 2017)

don't get bored of their shakes because there are so many flavours to choose from. tried all except the granadilla. cream soda the best. price is good - not the cheapest.

Best whey on the market

Review by Johan

(10 September 2017)

Great results with zero bloating. Taste good too. Chocolate flavour by far my favourite

Great Taste Better than USN

Review by Sbuda

(9 September 2017)

Very great taste have been taking it for over a week now and I am glad I have found something with better taste as USN is now taking consumers for a ride knowing they are an established brand, hopefully the taste will also translate to good results.

not the cheapest, great taste

Review by fitforlife

(30 August 2017)

there are cheaper wheys out there but the taste just keeps bringing me back. have tried all the flavours except granadilla. banana and peanut butter are my go-to flavours.

Lovely whey protein I have ever used.

Review by Sphelo

(30 August 2017)

Better than other whey protein brands I tried before with regards to price and taste. Not sure about effectiveness as I had it for just a week now. Date: 30/08/2017

Love the taste

Review by Lauren

(12 August 2017)

Chocolate mint is absolutely delicious - like having After Eights :-)

Fantastic, best local Whey

Review by Jaco

(7 August 2017)

Best whey local after trying them all. Best taste, mixes easily, and reasonably priced.

Finally

Review by Hein

(18 July 2017)

Now see that SW is stocking Nutritech. FINALLY! Love the taste of the shakes (cream soda).