Product Info
3D Nutrition Pre-Shock XT is the next dimension in preworkout formulations to help shock and amp your training sessions.
The Pump Matrix
Three key ingredients to promote vein popping muscle pumps during your lifting sessions.
Increasing the 'pump' improves blood-flow to the muscles being trained to 'feed' them nutrient-rich blood for better recovery and gains.
Energy & Focus Matrix
Each serving of Pre-Shock XT provides a massive 300 mg of caffeine. This is approximately the same as 3 strong cups of coffee.
Caffeine has long been used to increase energy and mental focus to boost workout performance.
If you have never used a preworkout before we recommend starting with half a serving first to assess tolerance.
Vitamin Energy
This is one of the few preworkouts on the South African supplement market to utilise the power of vitamins to increase energy levels.
B-complex vitamins play a crucial role in energy production within our bodies. Well done to 3D Nutrition for adding these energy boosting vitamins to their formulation.
40 True Servings
There are 40 servings as the recommended dose. Looking at the formulation most athletes and lifters will get a great performance boost by just using half a serving. Giving a product that lasts almost 3 months.
Even at the full recommended serving this product offers fantastic value for money.
3D Nutrition Pre-Shock XT is a comprehensive preworkout drink offering athletes an increase in energy and mental focus for unforgettable workouts.
Related Products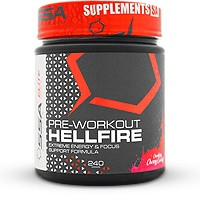 Nutrition Facts
Serving Size: Serving Size : 1 Heaped Scoop (15g)
Servings per Container: 40

Amount Per Serving
NRV
Energy
72 kJ
†
Protein
0 g
†
Carbohydrates
4,3 g
†
Of Which Sugar
0 g
†
Total Fat
0 g
†
OF Which Saturated
0 g
†
Dietary Fibre
0 g
†
Sodium
42 mg
†
MUSCLE PUMP MATRIX
5 000 mg
†
Beta Alanine
2 000 mg
†
L-Citruline Malate
2 000 mg
†
GlycoPump™ (Glycerol Powder 65%)
1 000 mg
†
MUSCLE PERFORMANCE MATRIX
3 500 mg
†
Glycine
1 500 mg
†
Taurine
1 000 mg
†
L-Leucine
500 mg
†
L-Isoleucine
250 mg
†
L-Valine
250 mg
†
INSTANT ENERGY & FOCUS MATRIX
550 mg
†
Caffeine Anhydrous
300 mg
†
N Acetyl L-Tyrosine
250 mg
†
ENERGY VITAMIN COMBO
24,5 mg
†
Vitamin B6 (as Pyridoxine HCL)
10 mg
588%
Vitamin B1 (as Thiamine HCL)
5.5 mg
457%
Vitamin B2 (as Riboflavin)
5 mg
385%
Vitamin B5 (as Clacium D-Pantothenate)
4 mg
80%
Vitamin B12 (as Cyanocobalamin)
100 mcg
4175%
NRV-Nutrient Reference Value for individuals older than 4 years.
†- NRV not established
Ingredients
Muscle Pump Matrix (Beta Alanine, L-Citrulline Malate, Glycerol Powder 65%), Muscle Performance Matrix (Glycine, Taurine, L-Leucine, L-Isoleucine, L-Valine, Instant Energy & Focus Matrix (Caffeine Anhydrous, N Acetyl L-Tyrosine), Energy Vitamin Combo (Pyridoxine HCL. Thiamine HCL, Riboflavin, Clacium D-Pantothenate, Cyanocobalamin),
Other Ingredients: Maltodextrine, Flavouring, Acids, Non-Nutritive Sweeteners (Sucralose and Acesulfame k), Anti-Caking Agent, Colourant (E133).
ALLERGEN INFORMATION
Contains no common allergens, but produced in a facility that processes Whey, Casein and Egg.
Directions
• Take 1 heaped scoop with 200ml of water 30-45 minutes before workout.
Notice
Seek advice from a health care professional before use if you have any pre-existing medical condition. Do not use if you are pregnant or nursing, or if you are treated for heart disease or high blood pressure, Should no be used in conjunction with any prescription medication, including MAO inhibitors, stimulants or anti-depressants. Discontinue use and consult your doctor if any adverse reactions occur. KEEP OUT OF REACH OF CHILDREN.
Customer Reviews
Disappointed

Review by Zapa

(15 July 2021)

Not value for money. Can rather use it as a inta workout. Taste is okay but there is cheaper stuff if you are after taste. I.e. drink o pop

Not a good Pre-workout

Review by Ruan

(12 December 2020)

It doesn't last long and it doesn't work well, waste of money

Tired

Review by Henk

(7 July 2020)

Instead of energy it made me tired. During lockdown i find it more difficult to train but the Pre makes me tired and cant train on it. Will not buy again

Not worth it.

Review by Pre 101.

(6 July 2020)

No energy, no pump, no focus !! Underdosed formula. Not the best local pre by far. Stay away.