Product Info
SSA Supplements Pre-Load is a preworkout capsule formula for increased training performance.
This product is perfect for athletes and lifters who do not like consuming preworkout drinks, but prefer the zero taste or convenience of capsules.
The major benefit of capsules versus powder is that the dosage can be exactly dialed to the athlete's liking. Especially athletes who are sensitive to stimulants like caffeine, capsules offer the best solution to assess tolerance and slowly increase dosage.
SSA Supplements Pre-Load has been designed to address the 4 main components of lifting performance; energy, pump, strength and mental focus.
Each 6 capsule serving gives 200 mg Caffeine which together with L-Citrulline Malate assist in giving you more energy during your gym session. Beta Alanine and Creatine HCL have been included to give you stronger lifts with Arginine HCL a precursor to muscle pumps.
This is a superb formula which aims to increase the main areas of training performance. We think it is so good that they should have made a powdered version to.
Potential Benefits:
• Energy Increase
• Stronger Lifts
• Better Endurance
• Improved Mental Focus
• Muscle Pumps
Nutrition Facts
Serving Size: 6 Capsules
Servings per Container: 30

Amount Per Serving
NRV
Beta Alanine
2000 mg
†
Creatine HCL
750 mg
†
Arginine HCL
500 mg
†
L-Citrulline Malate
500 mg
†
Siberian Ginseng Powder
250 mg
†
Caffeine Anhydrous
200 mg
†
Pine Bark
100 mg
†
Alpha Lipoic Acid
50 mg
†
Niacin (Vitamin B3)
25 mg
156%
NRV-Nutrient Refence Values for individuals older than 4 years.
†-NRV not established.
Ingredients
Other ingredients: Capsule Shell (Gelatin, Purified Water Colourant) Pirosil (Silicon Dioxide)
ALLERGEN INFORMATION
Contains no common allergens but is produced in a facility that processes Whey, Casein and Egg.
Recommended products to use with this item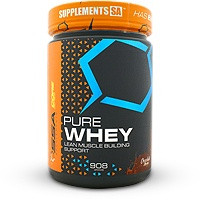 Directions
• As dietary supplement take 6 capsules 30 – 45 minutes prior to your workout.
• For best results avoid eating a meal an hour before taking SSA'S PRE-LOAD.
Notice
Seek advice from a health care professional before use if you have any pre-existing medical condition. Do not use if you are pregnant or nursing, or if you are being treated for heart disease or high blood pressure. Should not be used in conjunction with any prescription medication, including MAO inhibitors, stimulants or anti—depressants. Discontinue use and consult your Doctor if any adverse reactions occur.
KEEP OUT OF REACH OF CHILDREN.
DO NOT EXCEED RECOMMENDED DAILY INTAKE, DIETARY SUPPLEMENETS SHOULD NOT REPLACE A PROPER DIET.