Product Info
SSN Ripped Hardcore is a high impact cutting agent for athletes who want to reduce body fat.
Formulated with Yerba Mate and Green Tea Extract which are two popular weight loss ingredients. Patented BioPerine has been included to improve ingredient uptake, making the product even more effective.
Each serving contains 225mg of Caffeine which is more that 3 cups of coffee. Caffeine has long been used as a performance aid to increase energy levels and mental alertness. Individuals on a low-calorie diet may have decreased mental focus and energy.
SSN Ripped Hardcore is a powerful fat burner. Individuals sensitive to caffeine should assess their tolerance by taking only 1 capsule and slowing working their way to the manufacturer recommended dose.
Related Products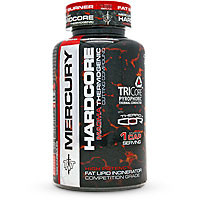 Nutrition Facts
Serving Size: 3 Capsules
Servings per Container: 60

Amount Per Serving
*%NRV
Chromium (from chromium picolinate)
150 µg
428%
L-Tyrosine
375 mg
Bitter Orange extract
250,5 mg
Caffeine Anhydrous
225 mg
Green Tea extract
150 mg
Yerba Mate
75 mg
Grapefruit extract
37,5 mg
BioPerine® (Black Pepper) extract
3,9 mg
*%Nutrient Reference Values (NRVs) for individuals 4 years & older.
Recommended products to use with this item
Directions
• Take 3 capsules twice per day, 30 minutes prior to breakfast and 30 minutes prior to lunch.
• Not recommended after 16:00 due to high caffeine content.
• Use on a 5 days on, 2 days off cycle to maintain sensitivity.
Notice
This product contains a WADA-prohibited substance. Not recommended for professional athletes.
Consult your physician before use, especially if you have a medical condition or you are taking medication. This product is not recommended for pregnant/lactating women, individuals under the age of 18 and individuals who are sensitive to caffeine. Combine with a balanced, energy-controlled eating plan and regular physical activity.