Product Info
USN HyperDrive Pre 2 is micro concentrated pre-workout for explosive training sessions.
Extreme Energy
To maximise their results athletes train at high-intensity levels during their gym workouts.
Short but intense training sessions have been shown to produce the most gains.
Each serving of Pre 2 gives 250 mg of caffeine which is the same as three cups of coffee.
Patented Performance Booster
Included is Advantra Z® which is a patented extract from citrus fruit, also known as bitter orange.
More than 30 research studies and scientific reviews support the increase in physical performance benefits from using Advantra Z®.
Ultimate Absorption Enhancer
AstraGin™ has been added to enhance the absorption of the ingredients in this concentrated pre-workout.
It has been proven in a dozen pre-clinical studies to improve the absorption of amino acids, glucose, vitamins and minerals.
Workout Strength
To increase your workout strength creatine monohydrate and fast-acting creatine HCI have been added. Creatine has been shown to improve explosive power levels during weight training.
Quality vs. Price
USN has delivered a training performance booster which uses quality patented ingredients at a very attractive price. At the time of this review it retails at R199 for 20 recommended servings.
Extend The Value
With the amount of caffeine and the added absorption enhancer some athletes may get a great workout from using just half a serving which would give them a product lasting almost two months.
USN HyperDrive Pre 2 is a well formulated pre-workout with the potential to offer fantastic value for money!
Related Products
Nutrition Facts
Serving Size: 1 Heaped Scoop (9.6 grams)
Servings per Container: 20


Amount Per Serving
*%NRV
Energy
7kJ
Protein
0g
Carbohydrate
0.3g
of which total sugar
0.1g
Dietary Fibre
0.4g
Total Sodium
26mg
Potassium
42mg
Niacin
17mg
106%
Vitamin B6
1mg
59%
Folate
208mcg
52%
Magnesium
121mg
29%
HYPERDRIVE STACK
7875mg
L-Citrulline Malate, D-Aspartic Acid, Beta-alanine, Betaine Anhydrous, Creatine HCI, Monohydrate, Advantra Z, AstraGin (Panax Notoginseng & Astragalus Membranaceus)
of which Caffeine
250mg
*%Nutrient Reference Values (NRV's) for individuals 4 years and older (2010)
Ingredients
Other Ingredients: Polydextrose, Flavouring, Anti-caking agent, Non-nutritive sweetener blend (Sucraose, Acesulfame-K), Disodium phosphate, Potassium chloride, Colourant.
ALLERGEN INFORMATION
No common allergens have been added, but ingredients may contain traces of tree nuts, peanuts or crustaceans.
Recommended products to use with this item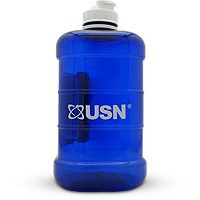 Directions
• Mix 1 heaped scoop (9.6g) with 150 – 200 ml water and stir or shake well.
• Take 1 serving 30 – 45 minutes before training.
• Assess your tolerance to the product by using a half serving first and build up to the recommended dose.
Notice
As with all supplementation, please consult your physician first (especially if you have a medical condition). Not recommended for pregnant / lactating women, individuals under the age of 18 or sensitive to caffeine. Remember that an adequate state of hydration must be maintained when using this product. Have at least 8 – 12 large glasses of water per day. Taking more than the recommended dose will not improve results and may cause adverse reactions. Large amounts of beta-alanine may cause paresthesia (pins and needles). Research suggests that this sensation is caused by beta-alanine binding to nerve receptors, and it is thought to generally resolve on its own after about 1.5 hours. The sensation may subside after a few weeks of continuous use. If not, discontinue use of this product. Not recommended for persons sensitive to caffeine. Do not exceed the recommended daily intake. For best results and appropriate muscle building eating and training programme should be followed.
Customer Reviews
Utter Junk & Waste Everything

Review by Kats2512

(19 May 2019)

The worst pre workout I have ever taken.

Does absolutely nothing apart from making 1 feel as if they going to throw up after an intense workout session.Drained of energy after a workout, should have rather stuck to normal black coffee as a pre workout.

There is barely any taste as well. USN SUCKS!!!

Effective

Review by NateDawg

(3 May 2019)

Fantastic product

Disappointed

Review by Disappointed

(2 May 2019)

Tastes ok, however I am extremely disappointed as it did not do anything.

Great stuff

Review by Nooby

(14 March 2019)

Great stuff but if you want that nice kick need to add other stuff aswell

Safe & effective to use.

Review by Njiva

(4 March 2019)

Will use this again.

Good

Review by Predator

(20 September 2018)

High quality great effect

I USE THIS ALOT

Review by VONNY

(21 August 2018)

I LOVE IT :-)

Pretty good

Review by Crass.smart

(5 August 2018)

I'm a small female so it's pretty effective for me. Tastes over sweetened and price per serving can be better.

Good pre workout USN

Review by Mr Muscle

(29 June 2018)

Good product, gives energy boost especially stamina wise, pumps are ok, love the tingle feeling, not much of that intense focus, but probably depending on serving size. Definitely needs more servings for same price. USN has tons of products which I think they could at least add more servings to this pre workout for same price.

Very effective.

Review by PAM

(24 June 2018)

True to its name "HYPERDRIVE". I recommend the product

Rubbish

Review by Rydog

(6 June 2018)

Rubbish

I want my money back

Review by Sbonelo

(3 May 2018)

waste of money and time I will never buy it again

Everything under dosed

Review by Booboo

(26 March 2018)

Waste of money all vital ingredients under dosed .look for a proper pre work out .u get wat u pay for

Decent. Not great

Review by Khan

(2 January 2018)

Gave me a decent amount of energy. Nothing special. Really sweet taste though

first time test

Review by DMAN

(25 October 2017)

tastes great and gives a great sensation.

I've had better

Review by J

(24 August 2017)

I've always been purchasing supplements from other brands but i was out and popped into clicks and just took this. Maybe its just my tolerance levels cos iv been on hectic stuff but this wasn't so effective for me. I have to take just over 2 scoops to feel hyper.

Awesome product

Review by Jana10

(31 July 2017)

It actually makes you feel very hyper active. Good product i recommend.


Good product

Review by Pre Starter

(27 July 2017)

Once u take the product, make sure u maximize it through exercise. Preferred you use it after u have consumed enough calories n 45minutes before exercise.

Good product

Review by De Groove

(13 July 2017)

Make sure u drink lots of water n have lots of exercise.

Definition of perfect

Review by Maestro T

(3 April 2017)

Drank it and 10 minutes later I was a beast

Works like a pre workout should

Review by Kick@ss

(20 January 2017)

Not anything special but will give you the workout you are looking for