Product Info
USN Water X is an advanced diuretic supplement, formulated with natural, premium ingredients designed to reduce water retention and bloating, whilst increasing urinary output.
Related Products
Nutrition Facts
Serving Size: 2 Capsules
Servings per Container: 45

Amount Per Serving
%NRV*
Equisetum arvense L.(Horsetail)extract(standardised to 7 % Silica)
150 mg
of which Silica
10,5 mg
Arctostaphylos uva-ursiSpreng.(Bearberry) leaf extract (standardised to 20 % Arbutin)
75 mg
of which Arbutin
15 mg
Juniperus communis L. (Juniper Berry) 4:1 root extract
75 mg
Taraxacum officinale F.H. Wigg. (Dandelion) 4:1 root extract
60 mg
Green Tea Extract(45 % EGCG)
50 mg
of which Caffeine
3,5 mg
Agathosma betulina(Buchu) 4:1 leaf extract
25 mg
Potassuim (as Potassium Citrate)
50 mg
Magnesium (as Magnesium Citrate)
40 mg
10%
*% Nutrient Reference Values(NRVs) for individuals 4 years & older (2010)
Recommended products to use with this item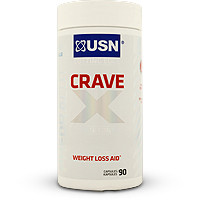 Directions
• Take 2 capsules in the morning and 2 capsules in the afternoon with or without meals.
• Another 2 capsules may be taken in the evening, if required.
• Drink 6-8 classes of water per day.
• Do not exceed the maximum recommended daily dosage.