Product Info
USN XTS Black is an ultra extreme preworkout formulated for energy, strength and pumps.
For increased workout energy each serving has 300 mg of Caffeine which is a well studied sports performance booster. For additional energy and mental focus support, 150 mg of Dynamine has been added which may give energy quicker that Caffeine, lasts up to 3 hours and elevates mood.
To lift heavier weights in the gym by increasing strength, the patented and clinically tested ingredient PrimaVie® has been added. In a study published in Andrologia, PrimaVie® was shown to significantly increase free and total testosterone levels in 75 healthy volunteers between the ages of 45 and 55.
USN have gone the extra mile in formulating XTS Black, which is undoubtedly their premium preworkout supplement. Including 5 patented ingredients in the formulation, USN are showing their commitment to using quality materials.
Related Products
20

servings:

R349.00
R279.00
Nutrition Facts
Serving Size: 15,5 g (± 2 scoops)
Servings per Container: 20

Amount Per Serving
*%NRV
Energy
48 kJ
Protein
0,1 g
Carbohydrate
1,5 g
of which total sugar
0,1 g
Total Fat
0,1 g
of which saturated
0,1 g
Cholesterol
0 mg
Dietery fibre
0,5 mg
Total Sodium
2,5 mg
Potassium
17,5 mg
PERFORMANCE & POWER SURGE COMPLEX
11 059 MG
L-citrulline
6000 mg
Betaine Anhydrous
2000 mg
GlycerPump™ (65 % Glycerol Monostearate)
1500 mg
Beta-alanine
1500 mg
Vitamin B3( as Nicotinic Acid)
35,0 mg
219 %
Iron
24,0 mg
133 %
EXTREME FOCUS, ENERGY & ENDURANCE COMPLEX
700 MG
Caffeine Anhydrous
300 mg
Dynamine™ (40 % Methylliberine acid complex)
150 mg
PrimaVie® (Purified Shilajit fulvic acid complex)
100 mg
L-theanine
100 mg
S7™ (Green Coffee Bean Extract, Green Tea Extract,
50 mg
Turmeric Extract, Tart Cherry, Blueberry,Broccoli, Kale)
ABSORPTION ENHANCER
25 mg
AstraGin™ (Panax notoginseng & Astragalus membranaceus)
25 mg
*%Nutrient References Values (NRVs) for individuals 4 years and older (2010)
Ingredients
Silicon Dioxide,Citric Acid, Flavouring, Polydextrose, Malic acid, Non-nutritive Sweetener Blend (Sucralose, Acesulfame-K), Stabiliser, Colourant.
ALLERGEN INFORMATION
No common allergens have been added. Manufactured in a facility that process Soy (Soy Lecithin), Oats (Gluten), Fish, Peanuts and Cow's Milk (Whey and Milk protein).
Recommended products to use with this item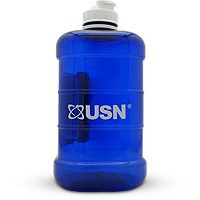 Directions
• For an extreme workout, mix ±2 scoops (15, 5 g) with 250-300 ml water and stir or shake well.
• Take 30-45 minutes prior to training.
• Mix ±1 scoop (7,8 g) with 150-200 ml water, for a standard workout.
Notice
Consult your physician before using this product if you are taking any medications or under a physician's care for a medical condition. One serving of XTS BLACK provides 300mg of caffeine per 15,5 g serving , which is the equivalent of three cups of coffee. Not for use by those under the age of 18, women that are pregnant, trying to get pregnant, or nursing, or those that are sensitive to caffeine. Too much caffeine may nervousness, irritability, sleeplessness, and, occasionally, rapid heartbeat. Do not consume caffeine/stimulants from other sources or within 4 hours of bedtime. Remember that an adequate state of hydration must be maintained when using this product. Large amount of beta-alanine may cause paraesthesia (pins and needles). Research suggests that this sensation is caused by beta-alanine binding nerve receptors, and it is thought to generally resolve on its own after about 1,5 hours. The sensation may subside after a few weeks of continuous use. If not, discontinue using this product. Do not exceed the recommended daily intake.
Customer Reviews
Great

Review by Joe

(11 December 2019)

Amazing product ,works good.

Amazing

Review by Armand

(11 December 2019)

After first time I felt energetic and could lift heavier weights for longer.

Worst i ever had!

Review by Joe

(3 December 2019)

Worst tasting (Grape) Pre Workout with no effect even when taking 2 scoops, however there's always a crash even when waking up the next day. Total waste of money.

Not worth it

Review by Dullah

(11 November 2019)

Total waste of money,tried one and on the next workout two scoops and i felt like crap during my workout,frustratingly disappointing considering the price