Product Info
USN XTS Hyperdrive is the latest concentrated preworkout with 300 mg caffeine in each serving.
A serving size is only 10.5 grams, but packs the same punch as 3 cups of strong coffee. To compliment the caffeine, Dynamine has been added which may enhance mood, increase energy and starts working faster.
No preworkout would be complete without muscle pump enhancing ingredients. USN have used GlycerPump™ which is a new and stable from of glycerol powder to increase muscle pumps during your workouts.
At 40 scoops (half a serving) and at the current retail price this is one of the most cost effective concentrated preworkouts on the market. Due to the strength of the product, most athletes could get a performance increase with just one scoop, giving them a 2 month supply.
USN XTS Hyperdrive contains all the ingredients you would expect from a premium concentrated preworkout at a budget friendly price.
Nutrition Facts
Serving Size: 10,5 grams (± 2 scoops)
Servings per Container: 20

Amount Per Serving
*%NRV
Energy
69 kJ
Protein
0 g
Carbohydrates
1,0 g
Of which total sugar
0 g
Total Fat
0 g
Dietary Fibre
0,7 g
HYPER-VOLUMIZING STACK
3 000,2 mg
L-citrulline Malate
2000 mg
GlycerPump™
1000 mg
Folate
195 µg
49%
ENDURO-POWER PERFOMING STACK
1536 mg
Beta-Alanine
1500 mg
Vitamin B3 (as Nicotinic acid)
35 mg
219%
Vitamin B6 (as Pyridoxine hydrochloride)
1,0 mg
56%
NITRO PUMP STACK
1750 mg
Betaine Anhydrous
1250 mg
Agmatine Sulphate
500 mg
FOCUS & ENERGY STACK
865 mg
Caffeine Anhydrous
300 mg
L-tyrosine
500 mg
Dynamine™ (40 % Methylliberine)
65 mg
ELECTROLYTE STACK
195 mg
Magnesuim
116 mg
28%
Potassium
48 mg
Total Sodium
31 mg
NUTRIENT TRANSPORT
25 mg
AstraGin™ (From highly purified Panax notoginseng root extract & Astragalus membrenaceus root extract)
25 mg
*%Nutrient References Values (NRVs) for individuals 4 years and older (2010)
Ingredients
OTHER INGREDIENTS: Silicon dioxide, Polydextrose, Citric acid,Flavouring, Fruitaric acid, Non-nutritive sweetener blend(Sucralose, Acesulfame-K),Malic Acid Stabilisers, Colourant.
ALLERGEN INFORMATION
No common allergens have been added.
Manufactured in a facility that processes Soy (Soy Lecithin), Oats (Gluten), Fish, Peanuts and Cow's Milk (Whey and Milk protein).
Recommended products to use with this item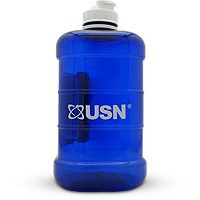 Directions
• For an extreme workout, mix ± 2 scoops (10,5 g) with 250–350 ml water and stir or shake well.
• Take 30-45 minutes prior to training.
• Mix ± 1 scoop (5,3 g) with 150-200 ml water, for a standard workout.
Notice
Consult your physician before using this product if you are taking any medication or under a physician's care for a medical condition. One serving of XTS HYPERDRIVE provides 300 mg of caffeine per 10,5 g serving, which is equivalent of three cups of coffee. Not for use by those under the age of 18 women that are pregnant, trying to get pregnant, or nursing,or those that are sensitive to caffeine. Too much caffeine may cause nervousness, irritability, sleeplessness, and occasionally, rapid heartbeat. Do not consume caffeine/stimulants from other sources or within 4 hours of bedtime. Remember that an adequate state of hydration must be maintained when using this product. Large amounts of beta-alanine may cause paraesethesia (pins and needles). Research suggests the sensation is caused by beta-alanine binding to nerve receptors and is thought to generally resolve on its own after 1,5 hours. The sensation may subside after a few weeks of continuous use of this product. If not, discontinue use of this product. Do not exceed recommended daily intake.
Customer Reviews
Great Pre for the Price

Review by HP

(29 October 2019)

Loads of energy on 2 scoop, even one is good used properly. Tastes great ,the first Pre-workout I have no complaints about.

Loads of energy

Review by Jeffery

(22 October 2019)

It's pretty good damn it had me running the entire night might have also used it to a little fun ???? if you know what I mean ????

Disappointing.

Review by Renz

(9 October 2019)

Not even two scoops are suffice . Felt a crash afterwards. No boost at all